Home > Privacy
CreditDepot.com Privacy Policy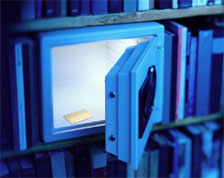 Last Revised: 6th January 2011
Our Commitment

Credit Depot has a strong commitment to providing excellent service to all of our customers, including respecting their concerns about privacy. We understand that visitors to our website may have questions about how this website collects and uses information. We have prepared this statement to inform you of the privacy principles that govern CreditDepot.com.

This statement contains several general and technical details about the steps we take to respect your privacy concerns. The bottom line is that meeting your needs and expectations is the foundation of everything we do - including protecting your privacy.


Personal Information

This website does not collect personally identifiable information from your computer when you browse the site. You are not require you to create an account at CreditDepot.com or share any personally identifiable information with us in order to use our website. This means that, unless you voluntarily and knowingly provide us with personally identifiable information, we will not know your name, your e-mail address, or any other personally identifiable information. When you choose to apply for a credit card offer or financing offer presented on our website, you are taken directly to the credit card issuer's or credit provider's website and you provide your information directly to them.


Newsletters, Contests and Special Promotions

On occasion, CreditDepot.com may offer users email subscriptions to our newsletter, contests or special promotions that offer users rewards or prizes in exchange for participation. During these types of events, users will have the option to volunteer certain information, such as their name and/or email address, and submit it to us, in order to participate. We do not share, sell, rent, or trade that information or any other personally identifiable information with third parties for their own use or promotional purposes. User information is kept strictly confidential and used solely to communicate with our staff and to satisfy our newsletter deliveries and/or prize claims.


Opting Out and Contest Participation Cancellation

Subscribers to our newsletter can opt-out of future email deliveries and unsubscribe by clicking on the newsletter's unsubscribe link, which is provided with each and every newsletter. Contest participants can cancel contest participation at any time by simply notifying us with their cancellation request. At which time, user's information will be deleted and removed from our database.


Internet Protocol (IP) Addresses

An IP address is a number that is automatically assigned to your computer when you browse the Internet. When users request a page from our site, our servers log the user's current IP address. We use IP addresses to help diagnose problems. We do not link IP addresses to any personally identifiable information about you, unless you subscribe to our newsletter or register for a contest on our website. In those cases, we may link your IP address with your registration information, in order to prevent abuse. We may use IP addresses to compile and provide aggregate statistics about our visitors, traffic patterns, and administer the site. This statistical information may also be related to third parties, but those statistics will not include any personally identifying information, track user's movement, or gather broad demographic information for aggregate use.


Cookies

CreditDepot.com does not employ the use of cookies on its website to collect any personally identifiable information about any of our visitors. However, Credit Depot cannot guarantee that all websites that are linked to and from our website employ the same policies. We are not responsible for the privacy practices of any other websites. We encourage our users to be aware that when they leave our website and visit websites outside of CreditDepot.com, they should review each individual website's privacy policy to determine if that particular website might collect personally identifying information.


Securing the Transmission and Storage of Information

All credit card applications listed with Credit Depot use a Secured Sockets Layer (SSL) line, provided you are using a SSL enabled web browser, such as Microsoft Internet Explorer or Netscape Navigator. This ensures that your information is encrypted as it travels over the Internet. This secure mode is enabled before any such information is transmitted from your computer. You will know you are in secure mode when the padlock or key icon in the lower right-hand or left-hand corner of the computer screen appears in the locked position. You will usually only see this icon when you are filling out a credit application. In addition, when accessing a secure server, the first characters of the site address appearing in your web browser's address bar will change from "http" to "https.".


Privacy Policy Changes

In the future, we may need to change the privacy statement for CreditDepot.com. Therefore, this policy is subject to change. All changes and additions will be made here on this webpage, so users will always know what information we gather, how we might use that information and whether we will disclose it to anyone else.


Acceptance

By using our website you consent to the collection, use and processing of the information that you provide to us in accordance with the terms of this Privacy Policy. If you do not agree to these terms, you must not use this website.


Contacting Us

This privacy statement applies solely to information collected by CreditDepot.com. If you have an questions or concerns about our privacy policy, please feel free to contact us here or email us at .




What can I do to improve my credit score?

A higher score can give you more financial options and many favorable credit offers. If you already have a good score, you can still improve it. There is no way to instantly boost your credit score.



Social Bookmarks:





© Copyright 2022 Credit Depot.com - All Rights Reserved.

Last updated information on 1/31/2022. This information has been obtained from various financial institutions. By entering this page you agree to the

Terms and Conditions

and

Privacy Policy

of Credit Depot.com.